Spring is in the air, and the Easter decorations are in full bloom around us. We especially love all the colorful eggs. My boys know that chickens and ducks hatch from eggs, but what else does?
Here's a fun way to teach children about oviparous animals (or animals that hatch from eggs).
First, start with a good book (or four...).
The Golden Egg Book by Margaret Wise Brown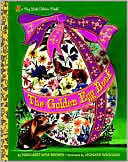 This book is a sweet little story about a lonely bunny who finds an egg and wonders what is inside. There is a great page where the bunny imagines other animals inside, such as an elephant, or a little boy. Find out what does hatch from the egg and discover a new friendship in the process.
The Extraordinary Egg by Leo Lionni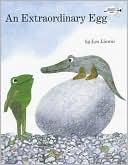 Jessica the frog loves exploring. One day she finds a wonderful round pebble. Her friends inform her it is an egg, and so there must be a chicken inside. What hatches is a very strange "chicken" indeed. Besides the simple humor of the story, I love using it as a teaching tool for helping kids think about what different animals hatch from eggs, besides chickens.
Chickens Aren't the Only Ones by Ruth Heller
I love to follow up the first two stories with this non-fiction classic. This is a beautifully illustrated book that explains all the different animals that hatch from eggs, from alligators to dinosaurs to insects. It also shows the various types of eggs, from the typical chicken egg to the exotic mermaid's purse in the ocean. My boys love pointing out all of the animals they know in the pages, and looking for their eggs.
Animals Born Alive and Well by Ruth Heller
I finish up with this companion book that talks about mammals. More beautiful illustrations and simple explanations for children to understand what a mammal is. It is fun to ask children to then classify themselves. Are they mammals or not?
After our books, here's the simple classification activity that we did together.
I simply dumped out our container of plastic animals on the floor and gave the boys a basket of empty Easter eggs of various sizes and colors. I then told them to fill the eggs with animals that hatch from eggs. It was fun to see how many animals they remembered from the stories. If they were unsure, we examined the animal to see if it had fur or hair. Chances are, if it did, then it was a mammal. They even deducted that lobsters and crabs must hatch from eggs (they weren't in the book) because they didn't have fur or hair!
They loved filling the eggs with different creatures and were excited to show Daddy their unusual eggs when he got home from work.
*Book images from barnesandnoble.com*