I know Valentine's Day is past, but you don't need a holiday to show your children how much you love them. I have found and collected several books about love, and my boys never tire of hearing them. Here are just a few of my favorites, perfect for Valentine's Day, or just a good bedtime story.
Koala Lou by Mem Fox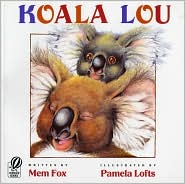 This is probably my favorite children's love book. Koala Lou is a sweet koala with a mom who loves her very much, and expresses it often. When more brothers and sisters come into their tree home, mother often doesn't tell her Koala Lou that she loves her, even though she certainly does. Koala Lou decides to enter the Bush Olympics and win a gold medal in hopes of hearing her mother's I love you. Find out what happens at the games, and more importantly, after. A reassuring and sweet tale of a mother's love.
Heartprints by P.K. Hallinan

This book is a wonderful illustration of simple things that children can do to leave heartprints throughout their day. Heartprints are defined as "the impression left behind by a deliberate act of kindness." This is a great book for teaching the value of kindness and caring.
Love is a Handful of Honey by Giles Andreae

Simple, rhyming text gives metaphors to describe the feeling of love throughout the day. A perfect bedtime read.
Franklin Says I Love You by Paulette Bourgeois

It's Franklin's mother's birthday and he wants to show her that he loves her without an expensive gift. Unsure of what to do, Franklin asks his friends for ideas. Find out what he does to show his mother that he loves her, and what she thinks is the best gift of all.
I Love You Because You're You by Liza Baker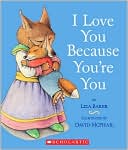 A great rhyming verse to reassure little ones that parents love them, no matter what their mood.
Bear Hugs by Karma Wilson and Suzanne Watts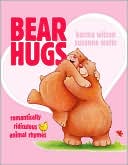 Silly and clever, this is a collection of animal love poems. This one is fun for kids, but sophisticated enough for parents to enjoy as well.
A Book of Kisses by Dave Ross

A fun little collection of descriptions of different types of kisses used throughout the day and around the world. From good morning kisses, butterfly kisses, I'm sorry kisses and bedtime kisses. For extra fun, there is even a page with how to say kiss in several different languages. There is also a companion book called A Book of Hugs. I'm on the lookout for an inexpensive copy of that one.
Grab someone in your home who needs some extra love, and share one of these books with them.
Love is reading to your children to let them know you care.
All images found on www.barnesandnoble.com